June 24th, 2019 3:35pm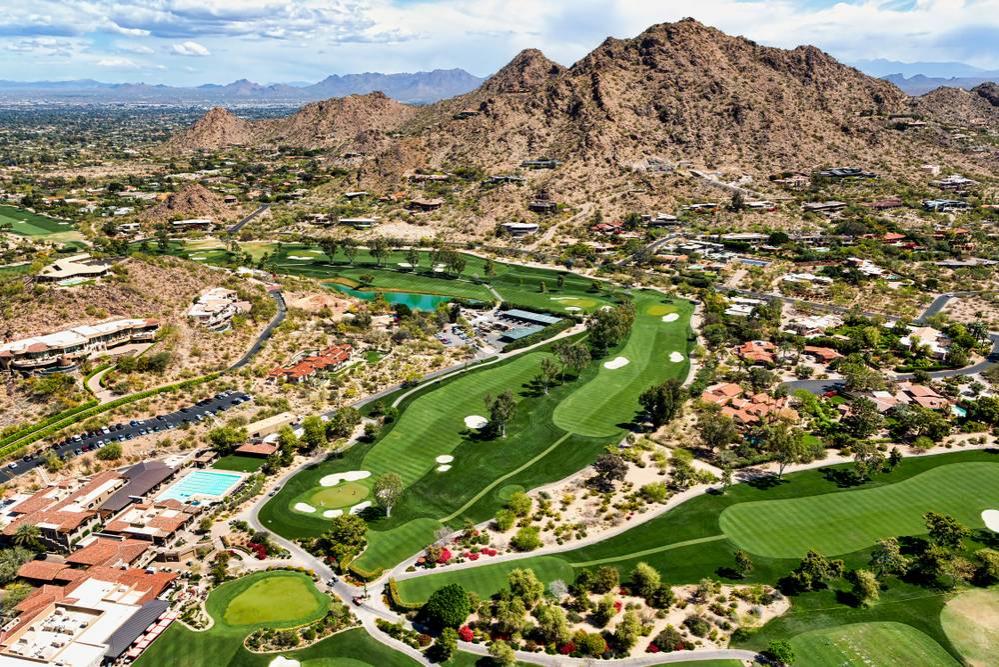 Scottsdale is one of the greatest cities in Arizona to eat and play, especially when it comes to planning once-in-a-lifetime events like bachelorette parties. The city has everything a bride-to-be and her gal pals would need. Whether you're looking to spend time in nature hiking Camelback before grabbing culinary delights at brunch or kicking back poolside after a long night clinking glasses with the girls, Scottsdale is the ideal destination for any bachelorette party.
Below we've compiled a list of why every Arizona bride needs a Scottsdale bachelorette party.
6 Reasons to Get Married to the Idea of a Scottsdale Bachelorette Party
1. World-Class Hotels and Resorts
From desert views to fantastic pools, Scottsdale is home to some of the best hotels and resorts in the country. Whether you are looking for a luxury stay or an affordable oasis, Scottsdale is the place for you! The Saguaro, for example, is a luxury hotel and spa in Old Town. They even offer a bachelorette party package for their guests., The Canyon Suites at The Phoenician and the Sanctuary Camelback Mountain Resort and Spa are two more options for high-end hotels in the Phoenix area.
2. Bucket-List Dining Experiences
The Bride Tribe will never go hungry in this foodie paradise! Some of the country's best restaurants proudly call Scottsdale, AZ home, which has also been named the No. 2 "foodie" city in the nation. For instance, the sophisticated Cafe Monarch is ranked among the Top 25 best restaurants in America. This European-styled restaurant is located in the heart of Old Town Scottsdale. For bridal parties seeking a high-end dining experience, Marcellino, one of the finest Italian restaurants in the area, is also sure to delight refined palettes.
On the other hand, if you are in the mood for a more chic, lively atmosphere, try Sumomaya, where Asian and Mexican dishes come together to create a unique foodie experience. For a bit of an escape from the Southwest vibe, brides-to-be and their girls can dine at The Montauk for some New England fare. Overall, Scottsdale has hundreds of fabulous restaurants perfect for your Scottsdale bachelorette party.
3. Nightlife Hub of the Valley
The walkable neighborhoods of Scottsdale have given rise to a number of swanky clubs, bars, and chill lounges.
If you and your crew enjoy the thrill of a spirited nightlife, you will never run out of high-energy locales to check out in Scottsdale on your night out. The Mint Ultralounge boasts a massive dance floor with an equally expansive patio for a brief escape. Down the street, you'll find a lively strip of countless bars and clubs to celebrate the night away. For a quieter vibe to enjoy cocktails and good conversation, you won't have to travel far to find dozens of posh lounges.
4. Plenty of Things To Do
If you want an outdoorsy bachelorette party, explore Camelback Mountain, visit the Desert Botanical Garden or grab your polos to golf at one of the many courses in the area. Afterward, relax at one of Scottsdale's finest spas. Out of 70 spas in Scottsdale, Hawaiian Experience Spa is ranked number one. The luxury spa boasts massage rooms, a facial room, a relaxing lounge, and a tiki bar. For an equally lavish spa that includes outdoor and indoor amenities, try the opulent Spa Anania.
Need retail therapy with your girls? Scottsdale Fashion Square is one of the most visited shopping centers in the country for good reason. The approximately two million square feet of upscale shops, restaurants and movie theaters offer the perfect respite to escape the heat or unwind. Get ready for the big day by treating yourself to some lingerie or grabbing the perfect pair of shoes.
5. Great Weather (Almost) All Year
If you plan to have your bachelorette party in the winter or fall, Scottsdale's weather can't get any better. These months have the ideal weather for hiking, walking around town and simply being outside. On the other hand, if you are planning your party in late spring or summer, Scottsdale is the perfect destination for swimming and indoor activities (like shopping!).
6. Amazing Wedding Venues to Explore
Lastly, Scottsdale is home to some of the most incredible wedding venues around. During your Scottsdale bachelorette party, kill two birds with one stone and consider touring some venues to host your wedding. Some of the best wedding venues are in Downtown Scottsdale: The Clayton on the Park and The Clayton House. The contemporary Clayton on the Park can hold up to 150 guests. For larger parties, The Clayton House accommodates up to 300 guests and is a modern mix of refined industrial and rustic design.
Get a Taste of Arizona's Finest in Scottsdale
Whether you plan to incorporate all of these suggestions into your bachelorette party or want to keep it simple, Scottsdale offers the perfect options for every bride-to-be's party expectations. Start planning your bachelorette party today, and while you're in the area, check out The Clayton Venues so you can start planning your perfect wedding as well!