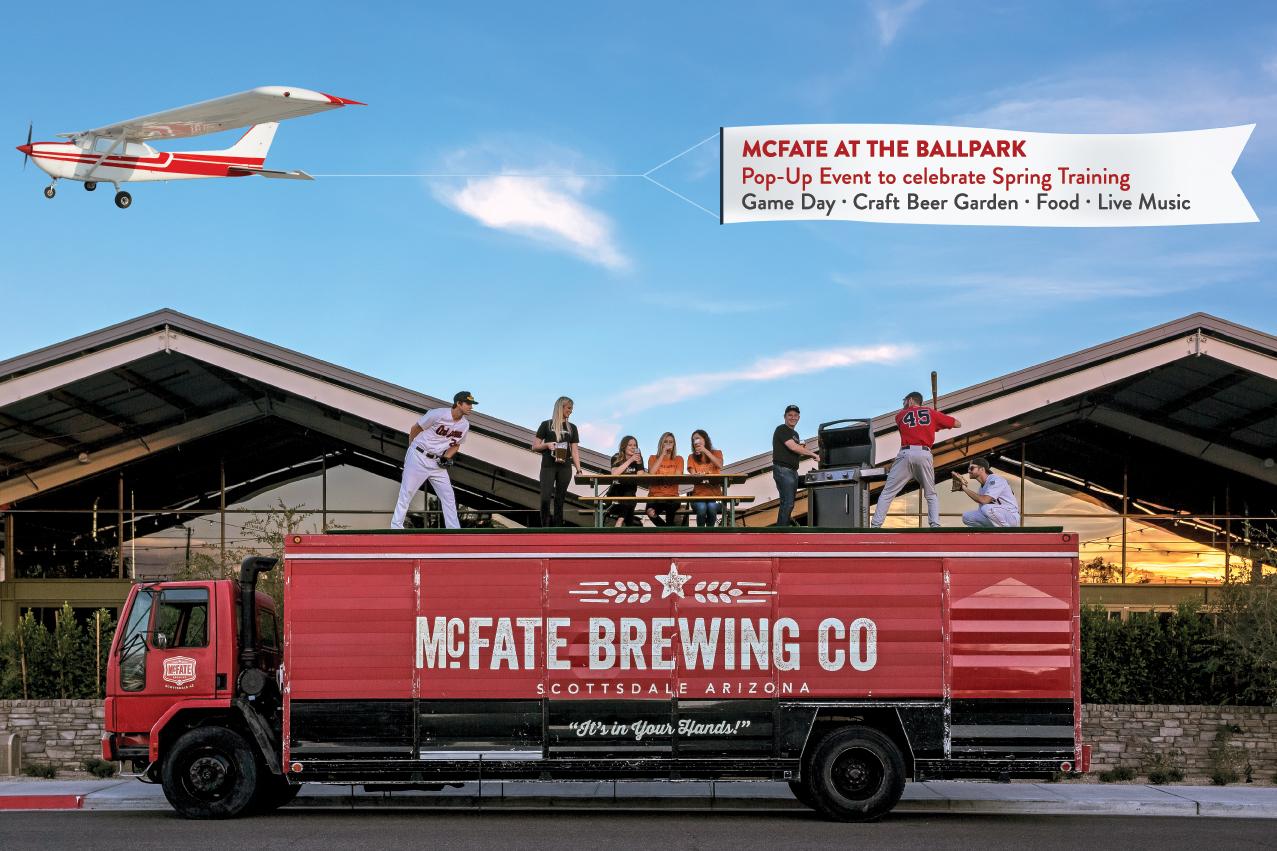 We are pleased to announce an exciting new event to celebrate Scottsdale's Spring Training season!
A favorite local brewery, McFate Brewing Company, will host "McFate at the Ballpark" featuring live music, a craft beer garden and a Ballpark BBQ menu.
The festival will be held every game day at The Clayton House, a new multipurpose event venue adjacent to the stadium, located just steps away from the ballpark's center field gate!
An ideal gathering place for pre-game, game time, or post- game get togethers, McFate at the Ballpark will be staged in an indoor/outdoor space including a large shaded patio.
We expect that this event will become the premier gathering place on game days at Scottsdale Stadium. Opening day is Friday February 23rd. We look forward to seeing you soon!
WHAT: McFate's version of a tailgate party, all under one roof. Enjoy live music, award winning craft beers and great BBQ ballpark food. Choose the patio beer garden on our shaded patio or step inside to enjoy the air conditioned comfort of our indoor space.
WHERE: The Clayton House. 3719 N 75 th St. Adjacent to the stadium, near the center field gate.
WHEN: McFate at the Ballpark is open on all game days at the Scottsdale Stadium, starting on Friday February 23rd.
HOURS: The venue opens one and a half hours before game time and closes when the party ends!
ADMISSION: Free admission
ABOUT THE CLAYTON HOUSE: Scottsdale's newest venue opened in November 2017. The Clayton House is a private Scottsdale wedding and event venue. Three indoor/outdoor event spaces can accommodate from 150-1000 people, depending on the style of event. A downtown Scottsdale location with ample public parking, full service catering and bar services make The Clayton House extremely convenient for all types of events. The contemporary wood, metal and glass details provide a refined industrial ambiance.
ABOUT MCFATE BREWING COMPANY: Scottsdale's hometown craft brewery has been locally owned and operated since 2012.
With two locations in North and South Scottsdale, McFate Brewing Company has brewed over 400 different varieties of craft beer. Known as friendly local gathering spots for craft beer, great food and fun times!